Don't ever feel as though you need to put  your senior's portrait into a pre-made frame and hang it in the hallway (where few will see it).
Take your time, and have fun with it! You are investing in one-of-a-kind art for your home…preserving and investing in a moment in time that is the first step towards adulthood for your child.
Already this spring, I've had forward-thinking parents select canvas galleries that lend themselves to expansion (to accommodate future seniors), beautifully framed larger wall portraits, and creative digital composites that really express the essence of their senior.
Canvas and custom frames are not the only way to go…I discovered this creative way of displaying photographs from Pottery Barn.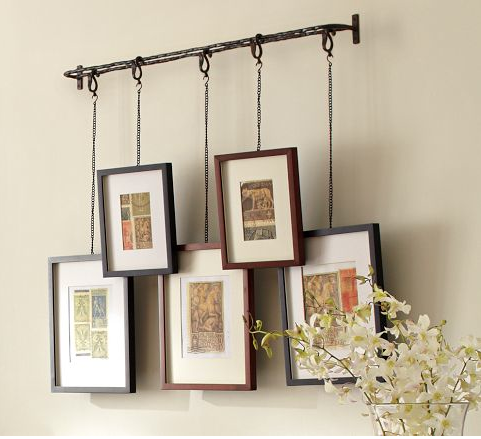 You can find it here. I have a grouping of beautiful black and white prints of my boys that I installed in Pottery Barn frames. Simple. Impactful. The images tell a story. The boys were quite young; we had then TWO white dogs, and we took them for a walk on a Sunday morning. I remember that day… Though the grouping is at least ten years old, I have no desire to take it down!
Yet another option: a beautiful canvas grouping by one of my favorite Minnesota photogs: Adam Hommerding.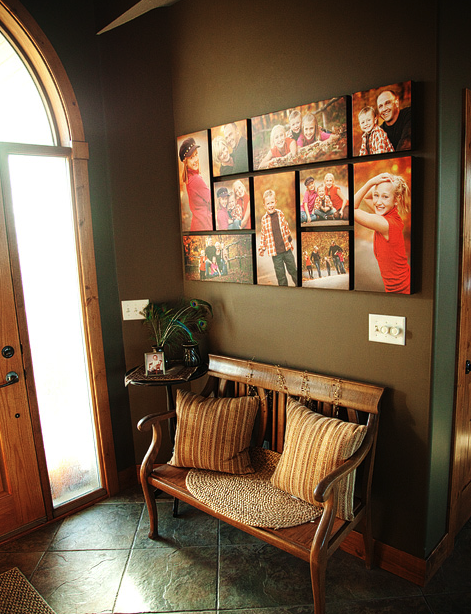 This family had the right idea! Their family images have become a welcoming part of their home. EVERYONE who enters gets to see this lovely grouping.